The Way we Wore – 50 years of Fashion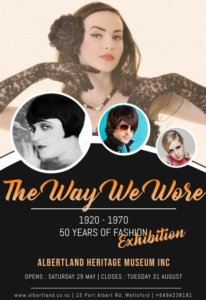 Albertland Heritage Museum and the Port Albert Hall are combining to celebrate 29 May with the launch of our latest exhibition, The Way We Wore.
Curated by Lyn Johnston, Rose Reid and Julie Cotton our displays showcase fashion from the 'Roaring 20s' to the end of the 'Swinging Sixties'.
From day dresses and glamorous evening wear to clothing accessories and toiletry articles, both men and women's fashion over 50 years will be featured.
29th May Programme
11.00 – Exhibition 'The Way We Wore' opens at Albertland Heritage Museum.  Vintage cars display.
 1.15pm  – Vintage Cars procession to the Port Albert Hall
1.30pm – Refreshments at the Port Albert Hall (finger food & cuppa for gold coin donation). Displays, Quiz & Raffles.  Welcome from Hall Chairman