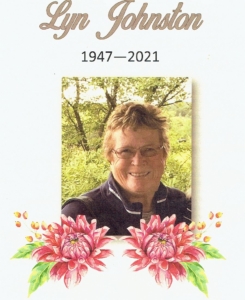 Lynette Johnston
04 July 1947 – 9 September 2021
The Wharehine and Wellsford communities lost a valued volunteer and committee member for both the Albertland Heritage Museum and Minniesdale Chapel, with the recent passing of Lynette (Lyn) Johnston.
A prolific contributor to many publications (including Mahurangi Matters) local and national museums,  Lyn was known, and recognised, as a dogged and meticulous researcher, as well as for her vast knowledge of local history.
Sadly, after a very short illness, Lyn passed away suddenly on 9 September 2021 at North Shore hospital.
The Marsh family moved to New Zealand as Albertlanders in the 1860s, and descendants have been part of the community to the present day, Lyn was born in Australia but moved to New Zealand as a young child, arriving on the TSS Monowai in November 1949.  Coming from an Air Force family Lyn grew up in the Whenuapai area, attended Hobsonville Primary, and was a foundation pupil at both Whenuapai Primary and Rutherford High Schools.
After a short spell in Christchurch, Lyn spent most of her adult life in Kaikohe, but moved to the Marsh homestead in Wharehine in the early 1990s to be firstly companion, and then carer, to her mother Isabella (Belle) Johnston.  After her mother's passing, Lyn remained at "The Farm" until her own passing.
Since moving to the farm Lyn gave selflessly of her time, spirit and energy to the Albertland Heritage Museum and the Minniesdale Chapel committee.  She has been instrumental in the success of the yearly museum calendar and numerous exhibitions.
Lyn was a self-taught, but accomplished artist, and her paintings won a number of awards in competition. Her works, either commissioned, or simply given by Lyn as an expression of thanks, hang on many walls throughout NZ.  She was also a keen "muso", having sung in her youth during the "folk song" era with her younger brother Phil's band. Although hearing difficulties hampered her listening to music in later life, her voice was always to the fore when Phil unlimbered the "geetar".  She also enjoyed theatre and the ballet.
Known to many as Aunty Lyn, or just Lyn, her passing will leave a space in the community which will be hard to fill.
Lyn is survived by her two children, Christy and Richard and 3 granddaughters, Nadia, Robin and Lynette.